Basement Waterproofing in Clarksville, Nashville, Jackson
If your basement is wet, cracked, or smells musty - we can help
Why more homeowners choose our system
Transferable lifetime dry basement warranty
Solutions for finished and unfinished basements
No destructive outside excavation
More than 30 patented products, all designed specifically for your basement
If you have basement problems such as leaky walls, musty smells, or even a flood, Frontier Basement Systems is here to help you solve all your problems fast. We've provided expert basement waterproofing services for nearly 15 years, and we can help you fix any problem you have in your home.
As the local authorized dealer of the international Basement Systems network, we have exclusive access to a complete line of patented basement waterproofing products that are designed to provide you with a permanent solution in your home.
No matter what basement water issues you're having, we can find a solution. Let one of our experts give your home a thorough inspection and identify the ideal solution for your problem. We offer free estimates on all our work in Jackson, Nashville, Clarksville and throughout the nearby areas. Call us today at 1-800-655-9414 to get started!
Before and After
Before

After

This homeowner wanted to protect her space from moisture from causing issues in her home. She had a number of products installed in her home including CleanSpace liner, Sani-Dry, IceGuard, LawnScape outlet, TripleSafe Sump pump, and WaterGuard. Her home is now dry and clean!

Before

After

A Monterey Tennessee family suffering from allergies called to get thier crawl space encapsulated in the quest for healthier air. The family complained of musty, damp, and moldy smells upstairs as well as cold floors in the winter.

Before

After

Check out this transformation!

Before

After

Check out this transformation!

Before

After

Check out the transformation of a wet nasty crawl space into a dry moisture free crawl space!

Before

After

Check out this crawl space transformation in Glasgow, KY!

Before

After

Check out this transformation in Glasgow, Ky!

Before

After

When this Baxter, TN family was experiencing problems with their home flooding with water each time there was heavy rains in the area, we were able to help upgrade the existing drainage system to direct water away from the structure.

All of our drainage discharge lines are designed to not clog, to be minimally invasive to not cause a tripping hazard and no mowing problems if on a lawn.

Before

After

We installed a SaniDry system in this customer's basement to help keep their air dry and healthy!

Before

After

We fixed another wet crawl space in Brownsville, KY!!

Before

After

Water problems in the basement were solved withby capturing the water with SmartPipe and removed with a Super Sump.

Before

After

When it rains, water comes in form everywhere damaging the personal belongings of this Hartford Kentucky couple. A single sump pump was installed many years ago but has not kept the basement dry. The old pump is removed and replaced with a TripleSafe Complete System including 2 sump pumps and an UltraSump.

Before

After

Customer called about standing water, mold, and moisture coming into the home from the crawl space. Our team removed the water from and leveled the earth beneath the home. We worked with the homeowner to incorporate their existing sump pump into the new CleanSpace system. The end result is a clean, moisture free, healthy environment.

Before

After

This Portland family wanted to ensure that the storage space provided by their basement remained dry all of the time.

To manage the water that was coming through the walls during times of heavy rains we installed WaterGuard to the bottom of the walls, which captures the incoming water and directs it to the sump pump liner and it is pumped out through the discharge line.

This innovative product sits flush to the floor, and will not clog due to where it is located. There are also inspection ports so that the system can be flushed and checked without any disruption.

Now that the water is intercepted at the point of entry, the basement is nice and dry and items will not be damaged by standing water.

Before

After

This basement had water seeping in so consistently that it's likely there is a spring in the area. Not being able to store anything on the floor and the effects of mold were the deciding factors to get a waterproofing system installed.

Before

After

Wall-Up forms a seamless, flexible, protective seal against moisture on concrete block. Wall-Up is key to superior protection against the elements!

Before

After

After living in this home for a year, the new home owner was ready for a permanent solution for their wet basement. Every heavy rain, water would leak in through the block and on the floor. The home owner had tried extending the down spouts with no improvement. They have not seen any mold but with heavy rains the carpet in the finished area does get wet.

Installing DryTrack Waterproofing Discharge line and a TripleSafe Sump Pump with discharge lines running out and away from the foundation was the solution to this home owners needs. The family plans on staying in this home and takes comfort knowing their basement water issues have been resolved.

Before

After

Our WaterGuard system saved this basement.

Before

After

We installed our Cleanspace Wall Liner and our TripleSafe Complete Pump in this basement to transform it into a clean, dry basement!!

Before

After

It is important to make sure that water isn't deposited in the immediate area next to your homes foundations. To ensure that the Sump Pump systems are correctly moving water away from this families home, without being unsightly or a tripping hazard is to place the discharge lines underground.

Before

After

See the transformation of what our cellulose spray foam and SilverGlo can do to your space to make your home more energy efficient by preventing heated and cooled air from escaping and the air outside from coming inside!

Before

After

See how we stop the leaking in this basement using our WaterGaurd + TripleSafe Sump Pump system!

Before

After

This Springfield crawl space had some serious leaks. The home owner described it as a pond in the crawl space. The upstairs does have musty, damp smells and the owner is thinking of selling.

Creating proper drainage, encapsulating the crawl space, replacing the homemade sump pump, and adding a discharge line was the solution for this home.

Before

After

This customer was having problems with leaks in their basement. We installed our SumperSump to keep the basement dry and free of water!

Before

After

Take a look at what we did for this family in Winchester with water problems in their basement!

Before

After

This 1920s home was built on Monolithic slab with stone walls a basement door at main level was a formula for disaster when it rains. Water came in through cracks in the slab, wall joints, stones, and the door.

Before

After

We installed a TripleSafe Complete with waterguard and Cleanspace Wall liner to waterproof this customer's basement!

Before

After

We transformed this customer's wet baement using our TripleSafe Single with Waterguard!

Before

After

We were happy to help these home owners with increasing the amount of natural light into their basement by installing a double-pane Everlast Basement Window. Just the before and after picture shows what a difference one small change can make!

Before

After

This Brentwood home had water issues in the crawl space, effecting the air quality of the home and compromising the structure. Waterproofing this crawl space by encapsulation controls moisture, mold, mildew, and temperature.
Signs of a basement waterproofing problem
Your damp or wet basement can cause more than just a headache; these issues can create bigger problems like mold, mildew, rot, structural damage, and a variety of health problems. If you've noticed any of the symptoms below, you might have a basement water problem.
Wet or damp basement floor
Leaking or damp basement walls
Pooling or standing water
crystalline deposit on concrete surfaces
Musty odors
Condensation
Sump pump issues
Leaky basement windows
---
Custom, proven solutions for a dry basement
Our complete basement waterproofing system includes all the solutions you need for a dry, comfortable, odor-free basement; no matter what's causing your issues. We offer many solutions for your home, including pumps, basement drainage systems, dehumidifiers, crack repairs, vapor barriers, and more.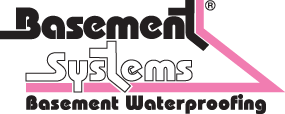 Request a free estimate from your local basement expert in Tennessee and Kentucky
If you think you have a basement waterproofing problem, request a professional basement inspection today. We will send one of our certified basement waterproofing specialists to visit your home and conduct a thorough inspection of your home's basement foundation.
Frontier Basement Systems fixes leaky basements in Nashville, Clarksville, Jackson, Owensboro, Murfreesboro, Bowling Green, Philpot, Utica, Fayetteville, Marion, Franklin, Leitchfield, Paducah, Mcminnville, Hartford, Antioch, Shelbyville, Gallatin and nearby areas. Contact us today for a free wet basement repair estimate.
Other companies might try to sell you on inferior basement waterproofing solutions. Our products have been developed, patented, and perfected by Basement Systems®, Inc. -- the world's largest network of basement waterproofing contractors.