Foundation Repair in Nashville, Clarksville, Bowling Green, Murfreesboro & Areas Nearby
Foundation Repair Contractor Serving Tennessee and Kentucky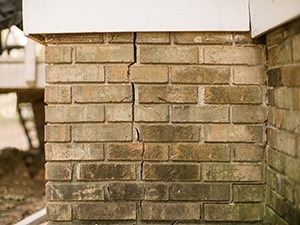 Solutions for every problem. If your foundation is cracked, buckling, or has other damage, our experts can restore your home to safe, functional condition.
Foundation problems can affect your home's safety, appearance, and value. The first step to repairing your home's foundation is to find the source of your problem. Repairing your foundation issue before it becomes a big problem is the most affordable and effective solution. As a local, award winning foundation repair contractor with an A+ BBB rating, Frontier Basement Systems can help.
All of our patented foundation repair solutions are custom designed for your home. As the authorized dealer in Middle Tennessee, Southwestern Kentucky, Greater Nashville, we install warrantied products available nowhere else, and all of our foundation specialists are trained and certified.
If you're ready to find a solution to your foundation issues, give us a call at 1-800-655-9414 or click below to schedule a professional inspection with one of our foundation repair experts. We offer free estimates on all our work in Jackson, Nashville, Clarksville and throughout the nearby areas.
Common foundation problem signs

Click on the images to learn more about the cause of your foundation issue and our solutions.


Bowing Walls

Settlement Sinking

Sagging Crawl Space

Wall Cracks

Floor Cracks

Uneven Floors

Foundation Heave

Sticking Windows And Doors
View More Foundation Problems >>
Before and After
Before

After

We placed six SmartJacks to repair this customer's sagging floors and lift the foundation!

Before

After

This home owner in Rickman Tennessee noticed the walls had cracks and were shifting. They became aware that putting off work any longer would certainly make this dangerous situation worse.

Our inspection did in fact reveal foundation failure. Our job was to straighten the existing foundation walls so they could support the load of the home.

Our team installed Geo-Lock Wall Anchors with 12"x28" wall plates to secure this foundation.

Before

After

This Summer Shade, KY home owner was preparing to put their house up for sale, Frontier Basement Systems were able to come in and permanently stabilize the sagging floors by adding an additional SmartJack XT to the exisiting supports and ensuring that they are all level and successfully supporting the floor joist system above - bring on the potential buyers!

Before

After

This family has a porch that was settling away from their house. In order to prevent any further damage and lift the concrete they used our PolyLEVEL system! Look at these great results!

Before

After

We installed our Geolock Wall Anchors to fix the cracks forming in this customer's basement wall!

Before

After

We installed CarbonArmor to eliminate this customers cracking foundation!

Before

After

See the system that was in use that did not fix their uneven floors. They had previously paid another company to fix their home but it did not work so they hired us to install our Smart Jacks to fix their uneven floors.

Before

After

We place Wall Anchors to fix this basement's cracking walls! The customer purchased covers for the Wall Anchors to make them blend in with the wall.

Before

After

These basement walls were severely cracking so we installed Channel Anchors to mend and stop the foundation settling!

Before

After

The walls of this home were bowing inward and cracking so we placed Wall Anchors to straighten and stabilize them!
Nationally recognized solutions from a local company in Middle Tennessee, Southwestern Kentucky, Greater Nashville
No two foundation problems are alike. We use only warrantied foundation repair products that have proven to be effective for repairing issues like cracks, sinking, bowing walls, and more. We ensure the best solution for your home's specific needs. Mudjacking, stabilizing concrete, wall stabilization, and push piers are just a few of our common solutions.

We're here to help you find the best home foundation solution
You don't have to live with stressful foundation problems. Frontier Basement Systems will conduct a thorough inspection of your home, and we'll let you know exactly what steps need to be taken to permanently stabilize your foundation -- restoring value to your greatest investment. Contact us today to request your free foundation repair estimate in Jackson, Nashville, Clarksville, Owensboro, Murfreesboro, Bowling Green, Philpot, Utica, Fayetteville, Marion or nearby.