Foundation Repair in Nashville, Clarksville, Bowling Green, Murfreesboro & Areas Nearby
Foundation Repair Contractor Serving Tennessee, Kentucky, and Alabama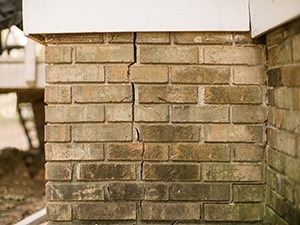 Solutions for every problem. If your foundation is cracked, buckling, or has other damage, our experts can restore your home to safe, functional condition.
Foundation problems can affect your home's safety, appearance, and value. The first step to repairing your home's foundation is to find the source of your problem. Repairing your foundation issue before it becomes a big problem is the most affordable and effective solution. As a local, award winning foundation repair contractor with an A+ BBB rating, Frontier Foundation & Crawl Space Repair can help.
All of our patented foundation repair solutions are custom designed for your home. As a Foundation Supportworks contractor in Southwestern Kentucky, Middle Tennessee and Northern Alabama, we install exclusive foundation products that come with a warranty and are installed by our team of trained contractors.
If you're ready to find a solution to your foundation issues, give us a call at 1-833-428-2988 or click below to schedule a professional inspection with one of our foundation repair experts. We offer free estimates on all our work in Clarksville, Nashville, Jackson, and throughout the nearby areas.
Common foundation problem signs

Click on the images to learn more about the cause of your foundation issue and our solutions.


Bowing Walls

Settlement Sinking

Sagging Crawl Space

Wall Cracks

Floor Cracks

Uneven Floors

Foundation Heave

Sticking Windows And Doors
View More Foundation Problems >>
Nationally recognized solutions from a local foundation repair contractor in Southwestern Kentucky, Middle Tennessee and Northern Alabama
No two foundation problems are alike. We use only warrantied foundation repair products that have proven to be effective for repairing issues like cracks, sinking, bowing walls, and more. We ensure the best solution for your home's specific needs. Mudjacking, stabilizing concrete, wall stabilization, and push piers are just a few of our common solutions.

We're here to help you find the best home foundation solution
You don't have to live with stressful foundation problems. Frontier Foundation & Crawl Space Repair will conduct a thorough inspection of your home, and we'll let you know exactly what steps need to be taken to permanently stabilize your foundation -- restoring value to your greatest investment. Contact us today to request your free foundation repair estimate in [major city 1], Huntsville, Murfreesboro, Franklin, Bowling Green, Athens, Smyrna, Florence or nearby.