Warped Wood Floor Problems In Nashville, Clarksville, Jackson, Murfreesboro, Franklin, Bowling Green, Athens
Identifying The Cause & Solutions For Damaged Floors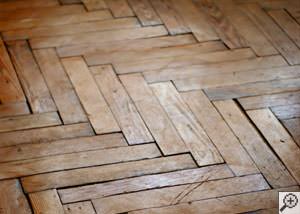 As temperatures and humidity levels in your home vary, wood flooring will expand and shrink in its width and thickness. When it expands too much, buckling occurs.
The beauty, natural appeal and warmth of hardwood flooring is something that homeowners have appreciated since the earliest days. However, wood flooring is one of the most challenging floor types to install and maintain. If the proper steps aren't taken to preserve your investment, it can easily be ruined.
At Frontier Foundation & Crawl Space Repair, we can provide a variety of solutions to help you upkeep your home's flooring, preserving its beauty, value, and functionality for years to come.
Meet with one of our professionals to see what we can do for you; we're ready to help! We offer free quotes for a variety of related services within the Jackson, Clarksville, Nashville, Franklin, Murfreesboro, Huntsville, Athens, Smyrna, Florence, Bowling Green, Brentwood, Madison, Gallatin, Glasgow, Mount Juliet, Tennessee, Kentucky, and Alabama service area. Call or e-mail us to schedule an appointment!
Cupping Wood Floors
Cupping occurs in wood floors when the edges of the boards are higher and the center is low. This is a sign that the moisture levels in the wood are uneven from top to bottom. Specifically, it happens when the wood is wetter on the bottom of the board than on the top. As the wood expands with moisture, the boards are crushed against each other, causing the edges to lift upwards.
Wood floors experience cupping when moisture becomes trapped underneath the wood. This sometimes happens when there's been a flood that has seeped into the floor. However, the most common cause of cupping wood floors is due to humidity being trapped in the wood from below.
If wood floors are placed directly on concrete with no vapor barrier installed underneath, humidity will pass through the porous concrete. If the first floor of your home is built over a humid crawl space or basement, that could also contribute to the problem significantly.
The Case Against Wood Flooring
Wood rots, burns, and has varying strengths from piece to piece. No two pieces of wood are alike; it expands and contracts with moisture, temperature, and humidity. It is the home of termites, carpenter ants, and countless other pests. Who wants to deal with that?
Crowning Wood Floors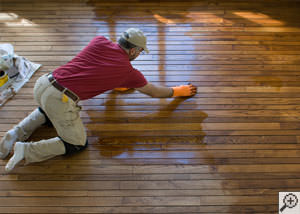 Sometimes, a contractor will sand and repair a cupping wood floor before the moisture content has returned to normal. As it dries out, the floor will instead show signs of crowning.
Crowning wood floors shows symptoms that are the exact opposite of cupping ones--the wood is bent up in the middle and down on the edges.
This kind of flooring problem is sometimes caused by moisture imbalances in the wood, but it's much more common to see this occur as the result of the improper repair of cupping wood floors.
Some contractors will attempt to repair cupping wood floors by sanding them flat. However, as the wood dries out and returns to its original shape, the sanding will result in crowning wood.
Cupping and crowning also occurs naturally, especially in the case of wider wood planks. This is because the outer "bark side" of lumber will swell more than the side of the lumber closest to the heart of the tree.
Repairing Crowning & Cupping Wood Floors
Often, the best way to repair hardwood floors that have shown signs of buckling is to simply dry them out. Once the hardwood has become dry, it may return to its original shape.
In extreme cases where the wood is buckling several inches above its original position, repairs may still be possible. Eliminate the source of water, and remove several floorboards to allow air to circulate and dry out the space. A powerful dehumidifier may be a key part of this kind of solution.
Sagging Wood Floors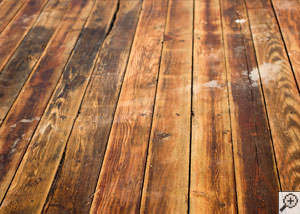 Often, a swelling, buckling floor can be repaired with little trouble or expense. However, if the wood has begun to show rot or water stains, it may need to be replaced.
If your floorboards are not buckling, but instead the entire floor itself is sagging, then you may have an entirely different problem.
Sagging floors are often a sign of an issue with your crawl space. The crawl space beams may be experiencing advanced rot, causing the supports to sag.
Otherwise, your issue may be sinking or insufficient crawl space support posts. Sinking crawl space jacks commonly occur when your supports are built on weak or insufficient supporting soils.
In some cases, your home may not have been designed with enough crawl space supports to properly bear the weight of your home. In this case, you will need additional support to prevent further damage.
Crawl Space Structural Repair
Crawl space structural issues can be addressed by installing adjustable steel crawl space jack posts. These posts can be installed in your home quickly--usually within a day. They will not only stop your floor from sinking but you can also adjust them to return your floor to its original position.
If your crawl space is showing structural damage because of problems with rot or mold, you should also encapsulate your crawl space and dehumidify the space. This will help to halt the damage and prevent further issues.
Professional Moisture Control Contractors in Tennessee, Kentucky, and Alabama
At Frontier Foundation & Crawl Space Repair, we pride ourselves in our quality, long-lasting solutions for moisture problems of all kinds. To preserve your wood flooring through proper moisture management in your home, or you'd like a waterproof solution for your floor, we have just what you're looking for!
Our services include providing homeowners with crawl space repair, energy efficient dehumidifiers, and interlocking subfloor tiles that will create a moisture barrier on your concrete slab floor.
For a free quote for these or any of our services, call or e-mail us today to schedule your appointment!
We proudly serve the Tennessee, Kentucky, and Alabama area, including Nashville, Clarksville, Jackson, Huntsville, Murfreesboro, Franklin, Bowling Green, Athens, Smyrna, Florence, Brentwood, Madison, Gallatin, Glasgow, Mount Juliet and nearby.