Dependable Residential and Commercial Foundation Repairs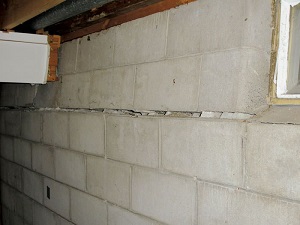 Frontier Basement Systems is the local contractor you can trust, proudly serving Central Tennessee and Southwestern Kentucky. Our team of trained technicians uses only high-quality materials from the best manufacturers in the business so you can be sure that your results will be long-lasting. We want to work with you to find a solution that will work best for you.
Having problems with settling or uneven foundations? We have the expertise to help get your foundations back in tip-top shape! Foundation settling can often be identified by things like cracked walls and floors, bowing or leaning walls, and cracks around windows or doors. But whether you need help with a residential or commercial foundation problem, installing foundation piers and jack posts are the best way to repair cracked floors and fix a sinking foundation. Bowing and leaning walls can also be fixed with wall anchors and I-Beam wall braces that will keep your walls tall and strong.
Our commercial helical piers provide lateral stability to foundation walls and retaining walls with unbalanced earth pressures. These helical anchors are versatile and allow you to immediately load and test the anchors. They have predictable capacity, can be installed in areas of limited access, and once installed, have no messy gout to clean up. Truly a must for any commercial building with uneven foundations.
Trusted Basement Repair in Franklin, TN
Water damage in a basement can be a daunting problem to tackle, but with the right tools, there is an easy, long-lasting solution. A problem with waterproofing can often stem from sump pump failure or leaky pipes. One of the best ways to fix these problems is to install a professional-grade sump pump like the TripleSafe sump pump, in addition to a dehumidifier to keep the area dry and healthy.
Symptoms of a waterproofing problem
Wet or damp basement floor
Leaking or damp basement walls
Pooling or standing water
Crystalline deposit on concrete surfaces
Musy odors
Condensation
Sump pump issues
Leaky basement windows
If you're looking to fix a flooding problem in your basement, waterproof walls and floors are a stylish way to seal out moisture and bugs while making the space energy-efficient.
Professional Radon Mitigation Services in Franklin, TN
The damaging effects of radon span of minor health risks to causing cancer. By installing a radon mitigation system, you can lower the radon levels in your home. These systems have a fan that sucks radon-rich air from beneath your foundation and then safely expels the gas to the exterior of your house. By having your home tested, you can avoid the dangerous health risks of radon gas and sleep well knowing your home is safe.
Additional Services in Franklin, TN
Frontier Basement Systems also provides a variety of different services to residents in Franklin.
Our services include:
Basement insulation
Crawl space insulation
Frontier Basement Systems has the know-how from serving the Tennessee and Kentucky area and is committed to customer service. Our expert technicians use only high-quality products from the best manufacturers in the business, so you can be sure that your project is done right. Call us today for a free estimate!